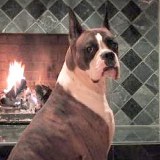 "He's such a much nicer, happier dog now since you began talking with him. The change in him is amazing. I keep telling him every day how much we love him, appreciate all he is doing to be a good boy, and are very proud of him with all the progress he has made. Lots of "good boys" every day. When he looks at us, his eyes are so different than before. Happier, more love showing through, and at times that little impish look that makes us laugh. He is now a delight to have around moreso than before. It's like a miracle (that has happened because of YOU!"

"Thank goodness there are people like you that can open a door for us to communicate with our babies."

"The dialogue with my dog was great! Now the cat wants equal time!"
"Since we started the readings, there has been a real shift in the house. The dogs are happier and more affectionate."

"I am currently owner of 4 dogs and 2 cats so love animals and would like to hear their voice or let them have their say and Julie does that for us."