Welcome to Aunt Julie's Gift Certificate Page!

If you are
new
to Aunt Julie's services,
click here
NOW to see why her services are valuable to you and others.

If you are not new to Aunt Julie's services continue on...

How does one think in terms of Holiday Gifts when it comes to Pet Communication?

Pet Owners are Pet Parents!

On Mother's Day, Father's Day, Valentine's Day, Grandparents Day ....

let them talk with their favorite pet(s)!

Or do so yourself!

The Pet's birthday...

Christmas, Hanukah...

New Years...What is your Pet planning, hoping, dreaming of?

Open House when you move? Well, how about what Rover thinks of the new place?

NEW BABY - New puppy, kitten etc in the household...introduce them to the other pets, and/or welcome them with their own Consultation!

NEW ARRIVALS - their own new litter. Newly adopted pets who are not babies. A stray brought into the fold. Or talk to them about your own new "puppy" er um human baby!

Work on understanding and resolving confusions and behaviorial issues, discuss medical issues (yours, pet's, someone who has passed,etc.).

Share the happiness of your having a new boyfriend, girlfriend, husband or wife! A raise at work! Anything your pet can pick up on, appreciate, share with the rest of the family!

Or just For No Reason At All!

GIVE A SPECIAL PRECIOUS & RARE GIFT

with a

PET CONSULTATION with AUNT JULIE

Renowned Pet Communicator!

Aunt Julie Pet Communicator Gift Certificates are always available. Yes, the Holiday Season is here, and we can all celebrate the NEW YEAR, Birthdays, Mothers and Fathers Day, remembrance....any Occasion!

Yes, this includes your pet ~ any animal, in fact.

Help the Silent Majority be HEARD.

What better Gift is there than

COMMUNICATION?

NOTE NOTE NOTE

Gift Certificates are for services, not "money", so Gift Certificates good for one year from date of purchase and rates at the time of purchase will of course be honored within that time.

HOW-TO

Decide ~ Pay

Determine what you would like to purchase. That is, an Initial Consultation for $90, a Follow-Up Hour for $60, or perhaps multiple Follow-Up Hours (e.g. 2 Follow-Up hours @ $60 = $120).

Follow-Up Consulting applies to a pet or animal you know has already talked with Aunt Julie. An Initial Consultation is just that - the first one for that pet, a repeat pet but a major new issue, or the first time reconnecting with a Passed Over pet.

Pay using the "Open Link"
payment link
(below) for the service. This link takes you to PayPal where you enter the amount you are paying. You can buy one or more Initial Consultations or a Follow-Up hour or hours. In any case, keep the quantity at One (1), and then enter the amount which covers what you are buying. Specify $90 for Initial Consultation, or, if you want to buy Follow-Up hours for someone, it's $60 for one hour, $120 for two, etc.

If you're not sure, just email me and ask!

And YES, to my Old Salts, you CAN use the regular links on the Available Services / Order Here page (or the Passed Over & Passing Over page, if applicable), but I put an Open Link payment link right on this page for you for your convenience. Go ahead and use it. If you buy a Gift Certificate later on and forget about this link being here, you are welcome to use the appropriate link on the Available Services / Order Here page for whichever service you are purchasing (or the Open Link).

Email me with the info as who will be using it. Let me know how to proceed. That is, either:


Provide me with their name and email address. I email them the Gift Certificate (sample shown below) with their name on it) directly, with any message from you etc.


It's a Surprise, in which case I'll email
you
a Gift Certificate with their name on it and you print out and give it to them). This is also good for recipients who are not online or cannot use a computer, download a picture, etc.

"THANK YOU FOR AN IN-DEPTH READING. KIND, PATIENT AND UNDERSTANDING"

Share the Experience! Treat Others!

Gift Certificates are good for one year from date of purchase, are transferable, aren't redeemable for cash, and cannot be used with any other "special" or "offer", including your referring someone new to me who uses my services and earns you free Consult time.

Here are samples of a regular Gift Cert and one for a Passed Over Pet (if you'd like this distinction).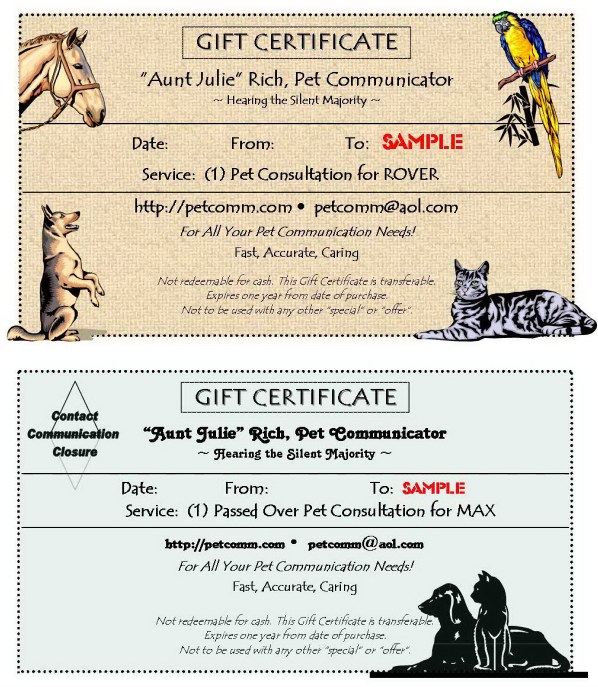 Direct PayPal Payment "Open Link" for amount you enter in:



UNITED WE STAND.

All site contents Copyright (c) 2002, 2010 Julie Rich.